Excellence is in no doubt a quality that distinguishes people and their works in every discipline. A foremost classical music band is beginning to make waves in Nigeria and it is worthy of note to showcase their beautiful works. This group (team definition Nigeria) did a spectacular video that was used as a campaign against election malpractices in the 2019 General Elections (Nigeria)
The Beginning
Team Definition started about September 2014 a creative platform for the remake  Classic Songs. They started out in a studio (Definition Studios) at Definition Studios located at magodo, Lagos State.
From the onset, their goal has always been to promote quality entertainment that goes beyond the gyrations of the physical, but one that touches the untraveled regions of emotions and soul. This is spectacular as the scores of songs that are being released in the Nigerian Music Industry hardly achieved that aim. Team Definition started a new system, they blazed the trail and did it with so much excellence.
Team Definition is like the Nigerian form of the renowned Pentatonix –  a three-time Grammy® Award-winning and multi-Platinum-selling band. Recall that the beatboxer for the Pentatonix band is Kelvin Olusola a Nigerian.
One of their (Team Definition) first major acapella tracks was Gbo Ohun Awon Angeli  – A Nigerian folk song that was released in December 2015.
 https://www.youtube.com/watch?v=s37GAS-XcmM
It was a huge success with over 24,000 views on their facebook page. They also did some other music covers which equally received wide acceptance.
Team Definition Nigeria in 2016
the group (team definition Nigeria) updated its scope to include Hymn culture, Cinema Scores and sound design in addition to classic covers which they started out with. By October of the same year, they were live at the Coke Studio Launch.
Next Level
Team Definition released their first album titled Hymn Culture which was scheduled to be launched at RCCG, The King's Court.
During the launch, there was a performance of the Nigerian National Anthem which later opened the door for more opportunities for them.
They were called to perform at the New Nigeria Annual Summit 2nd of October 2017.
Team Definition was not just patriotic, they were also concerned about the spiritual lives of people see what they had to say:
Hymns are possibly the most sacred of Christian worship music. They have lasted through the ages of the church and have enjoyed variations and colorations of different sorts, well known for provoking a sense of mirthful praise, reverential fear, or weighty instructiveness
This led them to start introducing a monthly theme. According to them:
We would like to think that the monthly hymns are like the new fruits produced monthly in Revelations 22:2… for the healing of the nation"Right down the middle of the street, The Tree of life was planted on each side of the river, producing twelve kinds of fruit , a ripe fruit each month, the leaves of the tree are for the healing of the nations"..(MSG)
In the same vein, they did a song on 'saying a prayer' particularly during the saga of Leah Sharibu.
Team Definition Nigeria in 2019
Moving forward to this year, they did a hymn 'blessesd assurance' at National Park Abuja. It was inspiring and a very good one to begin the year with. This shows their acknowledgement of Jesus and his Grace.
And then the blockbuster.
This video was amazing and one of the best ever done in Nigeria. It went virile and got the attention of many Nigerians. Some weeks latest Team Definition Nigeria was invited to feature on Wake up Nigeria TVC.
As if that was not enough, they got the attention of the Ooni of Ife.
See the amazing video they did right in his palace.?
And this is what he said to them.
Team Definition is indeed very electrifying!!! Special thanks to the Almighty for their God given talent to play a very pivotal role in the narratives of how to reposition our dear country Nigeria during the last Election.

They are made up of every major tribe in Nigeria. I'm super proud of the raw talented future of this country. I call and challenge all Nigerian youths to rise up to the occasion and join all hands together to change the narratives of the country. Nobody is ready to do it for us, we must rightfully take our position. ‬
‪‪Team Definition fire on. I'm very proud to be associated with you as your grand patron. Let's all decide the fate of our Nation. The effort begins…‬
‪#Ooniofife #Otisese ‬
What's the lesson?
Whatever you do, do well. For when you go to the grave, there will be no work or planning or knowledge or wisdom. Eccl. 9:10
Team Definition Nigeria Members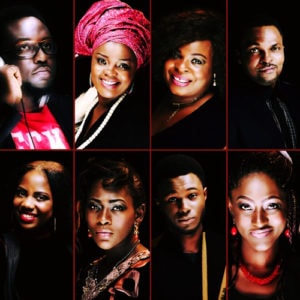 Charles Don Eden @charleseden
Adedokun Abahi Felicia
Belle Eloyi
You can reach them on 08152949575, 08026177005
Share this post if you like it.