RHAPSODY OF REALITIES DAILY DEVOTIONAL
HIS LIFE IN YOU
Thursday, December 23rd.
Pastor Chris Oyakhilome;
I am crucified with Christ: nevertheless I live; yet not I, but Christ liveth in me: and the life which I now live in the flesh I live by the faith of the Son of God, who loved me, and gave himself for me (Galatians 2:20).
How inspired are you about the life of Christ in you? Not many realize how sublime this is. Christ in you is everything; that was God's dream and the purpose of Christ's redemptive work. He came to make us sons of God, to make it possible for us to be indwelt by God and have His life imparted to our spirits. So, today, He lives in you by His Word and His Spirit
Colossians 3:16 says, "Let the word of Christ dwell in you richly in all wisdom…." The Word you've received dwells in you; and what does He do in you? Acts 20:32 gives us an idea; it says, "And now, brethren, I commend you to God, and to the word of his grace, which is able to build you up…." The Word of His grace in you is effective in itself and by itself to build you up! And if His Word builds you up, it means you can't fail, be destroyed, or be defeated.
His life in you by the Word is extraordinary; it causes you to grow up in God, in all things and in all areas. Ephesians 4:14-15 says, "That we henceforth be no more children, tossed to and fro, and carried about with every wind of doctrine, by the sleight of men, and cunning craftiness, whereby they lie in wait to deceive; But speaking the truth in love, may grow up into him in all things, which is the head, even Christ."

Then, John 14:23 tells us, "…If a man love me, he will keep my words: and my Father will love him, and we will come unto him, and make our abode with him." So, the Father and Jesus live in you by the Holy Ghost; He's alive in you by the power of the Holy Ghost; so, you aren't alone!
It makes no difference where you are in this world; be conscious and aware that the Father and Jesus are at work in you—to achieve in and through you the extraordinary, the unthinkable, and the unexpected. The Bible tells us in Ephesians 3:20-21, "Now unto him that is able to do exceeding abundantly above all that we ask or think, according to the power that worketh in us, Unto him be glory in the church by Christ Jesus throughout all ages, world without end. Amen."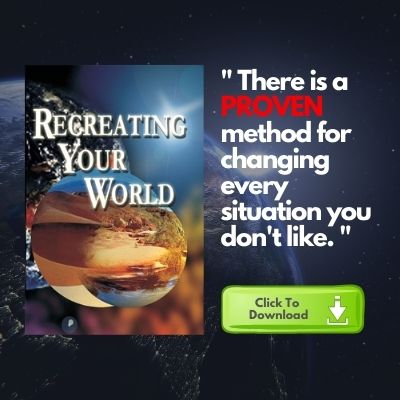 Click Here To Download Recreating Your World By Pastor Chris Oyakhilome
Colossians 1:27 tells us, "To whom God would make known what is the riches of the glory of this mystery among the Gentiles; which is Christ in you, the hope of glory." You're not an ordinary person;
every step you take is a "Christ-in-you" person walking. "Christ in you, the hope of glory" means there's glory in you everywhere you go; your life is full of glory. Hallelujah!
PRAYER
Dear Father, what an honour and blessing it is to have the Holy Spirit live in me. By virtue of His ever-indwelling and abiding presence, I'm infused with divine energy and supernatural wisdom to do your will and live triumphantly over and above circumstances, in Jesus' Name. Amen.
FURTHER STUDY: || 1 John 4:4 – Ye are of God, little children, and have overcome them: because greater is he that is in you, than he that is in the world. ||
|| Colossians 3:16 AMPC –Let the word [spoken by] Christ (the Messiah) have its home [in your hearts and minds] and dwell in you in [all its] richness, as you teach and admonish and train one another in all insight and intelligence and wisdom [in spiritual things, and as you sing] psalms and hymns and spiritual songs, making melody to God with [His] grace in your hearts. ||
DAILY SCRIPTURE READING
1 Year Bible Reading Plan=> Revelation 15 & Zephaniah 1-3
2 Year Bible Reading Plan=> Acts 2:37-47 & Ezra 1