RHAPSODY OF REALITIES DAILY DEVOTIONAL
PRACTISE ETERNAL LIFE
Thursday, October 7th.
Pastor Chris Oyakhilome;
And this is the record, that God hath given to us eternal life, and this life is in his Son (1 John 5:11).
Oh, how the Church needs to teach and preach eternal life! Most have never understood it, because they've never been taught. In 1 John 5:13 NIV, John said, "I write these things to you who believe in the name of the Son of God so that you may know that you have eternal life." He wanted them to know they had eternal life, because just like today, many don't know. So, you find a lot of Christians living as victims, buffeted by the vagaries and elements of this world.
It's the reason for the colds, headaches, fevers and all the sicknesses and diseases many suffer from. Sadly, some even think it's okay to be sick. No; not for the Christian! The life we have is divine. If an injury happens in your body, remind yourself that you've got divine life in you; it works in you—in every fibre of your being. Then, heal the wound! Command it to close up and be normal. You've got to practise this.
1 Timothy 4:15 says, "Meditate upon these things; give thyself wholly to them…." The expression "Meditate upon" is "Meletao" (Greek), and it also means to practise. Many years ago, as I started learning this, I had a cut on my hand and it was bleeding profusely. But I wasn't agitated. I had the consciousness of eternal life. So, I placed my finger over the cut and said, "stanch and be healed, in Jesus' Name!"

Guess what? Not only did the bleeding cease, there was no trace of a wound whatsoever. Hallelujah! It's important you learn to live the life that God has given you; practise it. Remember, when you were a child, you had to be taught how to talk and walk like humans, and you didn't perfect it overnight but grew through practice into perfection.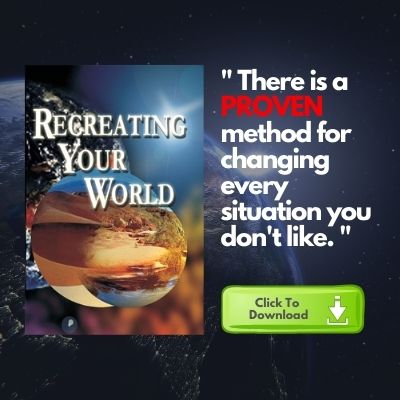 Click Here To Download Recreating Your World By Pastor Chris Oyakhilome
Likewise, now that you're born again, practise living the divine life. Superimpose the power of that life over your physical body by meditation, prayer (especially praying in the spirit), and by constant affirmation of the Word of God.
CONFESSION
Eternal life is at work in me; every facet of my being is inundated with, and supplanted by the divine life. I live above the rudiments and corrupting forces of this present world of darkness, in Jesus' Name. Amen.
FURTHER STUDY: || 1 John 5:11-13 – And this is the record, that God hath given to us eternal life, and this life is in his Son. 12 He that hath the Son hath life; and he that hath not the Son of God hath not life. 13 These things have I written unto you that believe on the name of the Son of God; that ye may know that ye have eternal life, and that ye may believe on the name of the Son of God.||
|| Romans 8:11 –  But if the Spirit of him that raised up Jesus from the dead dwell in you, he that raised up Christ from the dead shall also quicken your mortal bodies by his Spirit that dwelleth in you.||
DAILY SCRIPTURE READING
1 Year Bible Reading Plan=> Colossians 1:1-23 & Isaiah 44-45
2 Year Bible Reading Plan=> John 4:19-29 & 1 Kings 13